Description
7kW brenneren er ideell å bruke til wok eller grillplate, slik at du også kan grille perfekt på den.
Campingbordet er et bord med målene 137cm x 81,5cm og en høyde på 75cm for 4 personer. På grunn av høyden kan den brukes til å spise eller spille et spill.
Chuckbox S oppbevares i chuckbox XL og kan brukes som vanlig, kun lokket må tas av.
Contains
1 piece 7Kw Burner
Drawer 1 with dividers
Drawer 2 free space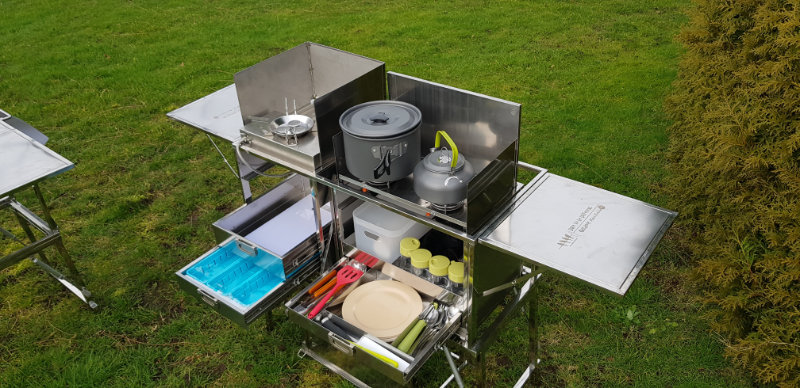 Dimensions Closed: 84cm x 37 cm x 41,5 cm, L x W x H;
Dimensions unfolded:

Table:      103cm x 81,5 cm x 75cm (L x W x H)
Kitchen: 137cm x 34cm x 75cm (L x W x H);

Material: Stainless Steel;
Weight: 22kg (Excluding Chuckbox S;
Gewicht: 34kg (included Chuckbox S;
Warranty: 2 year.
Warranty and registration
Standard you get 2 years warranty when buying the Checkbox XL, by registering your product here you get 1 year extra. So register your Checkbox and get 1 year more warranty!